Deposit Money in XM via Credit/Debit Cards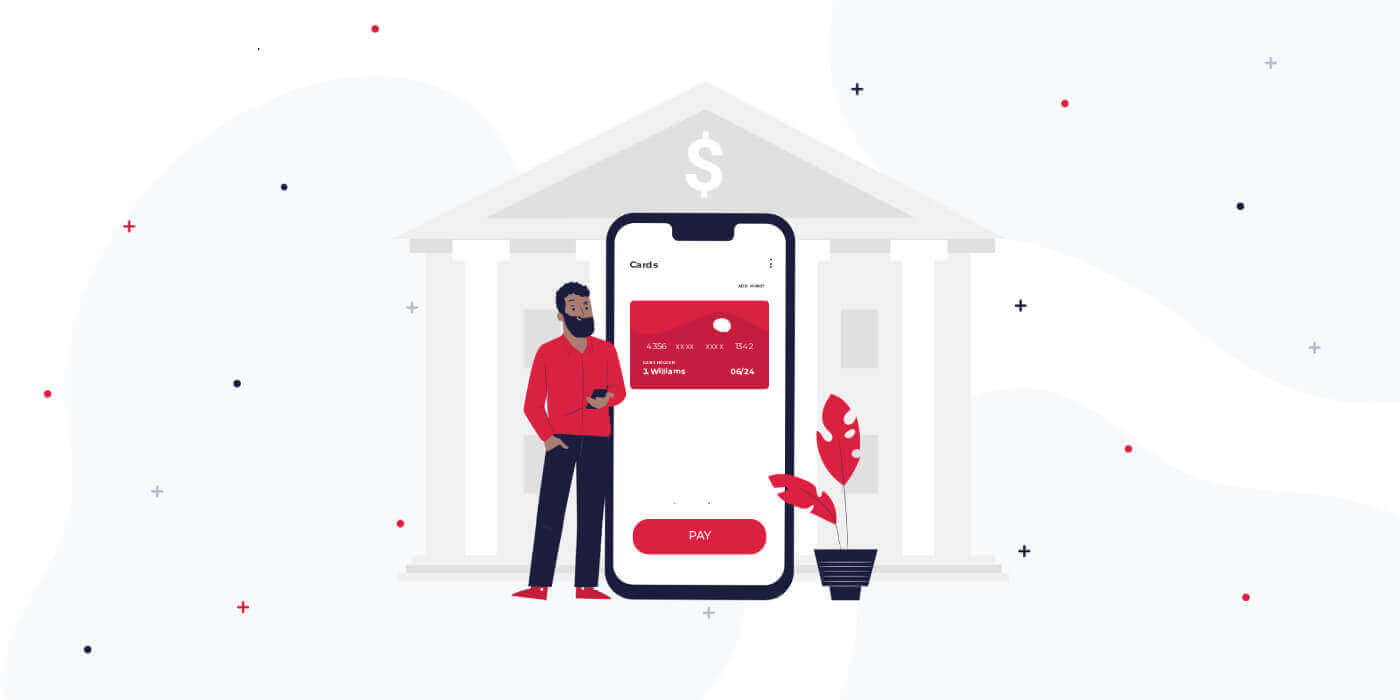 Deposit via Credit/ Debit Cards on Desktop
To make a deposit into XM's trading account, please follow the instruction below.
1. Login to the XM
Press "Member Login".



Enter your MT4/MT5 ID and Password, Press "Login".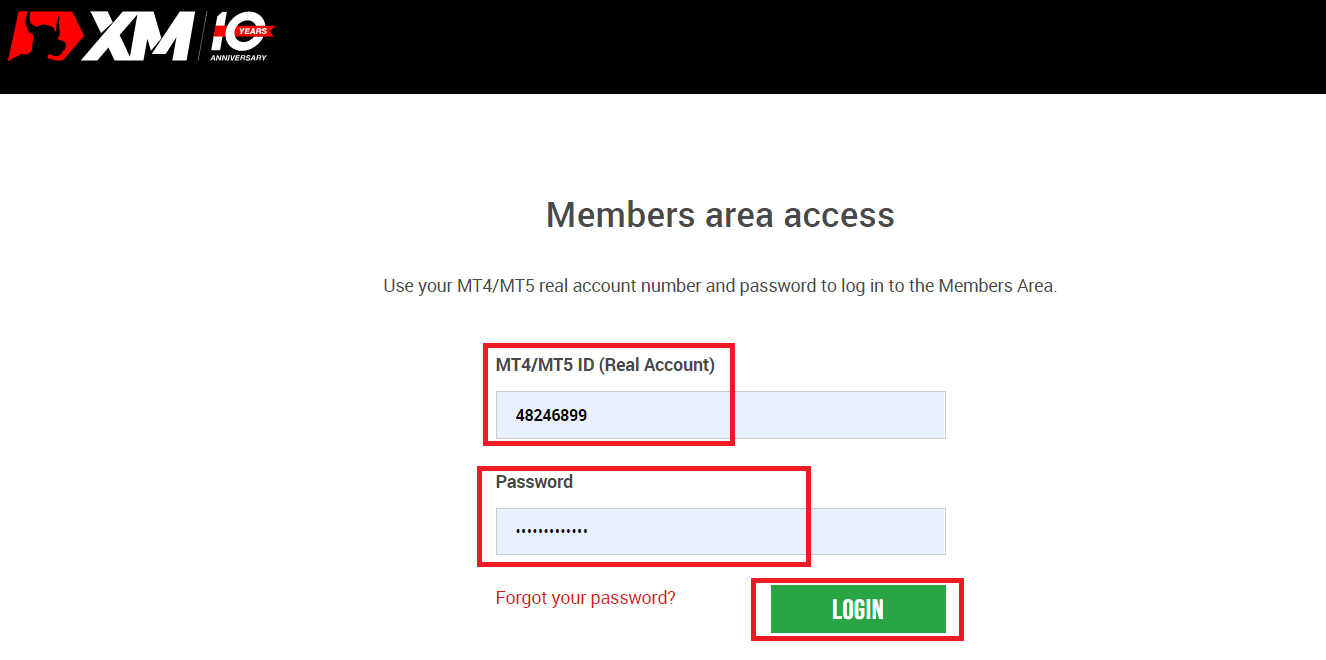 2. Select the deposit method "Credit/Debit Cards"
Deposit methods

Processing time

Deposit fees

Credit/Debit Cards
 
Immediately
Free


NOTE: Before you proceed with a deposit via credit/debit card, please note the following:

Please make sure that all payments are made from an account registered in the same name as your XM account.
All withdrawals, excluding profits, can only be paid back to the credit/debit card that the deposit was initiated from, up to the deposited amount.
XM does not charge any commissions or fees for deposits via credit/debit cards.
By submitting a deposit request, you consent to your data being shared with third parties, including payment service providers, banks, card schemes, regulators, law enforcement, government agencies, credit reference bureaus and other parties we deem necessary to process your payment and/or verify your identity.

3. Enter the deposit amount and click "Deposit"



4. Confirm the account ID and deposit amount

Click on "Confirm" to proceed.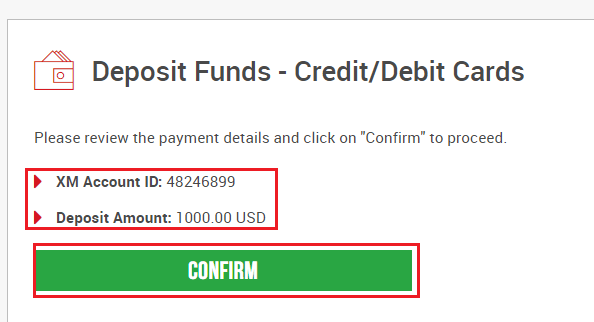 5. Enter all the required information to finish the Deposit

Click "Pay Now"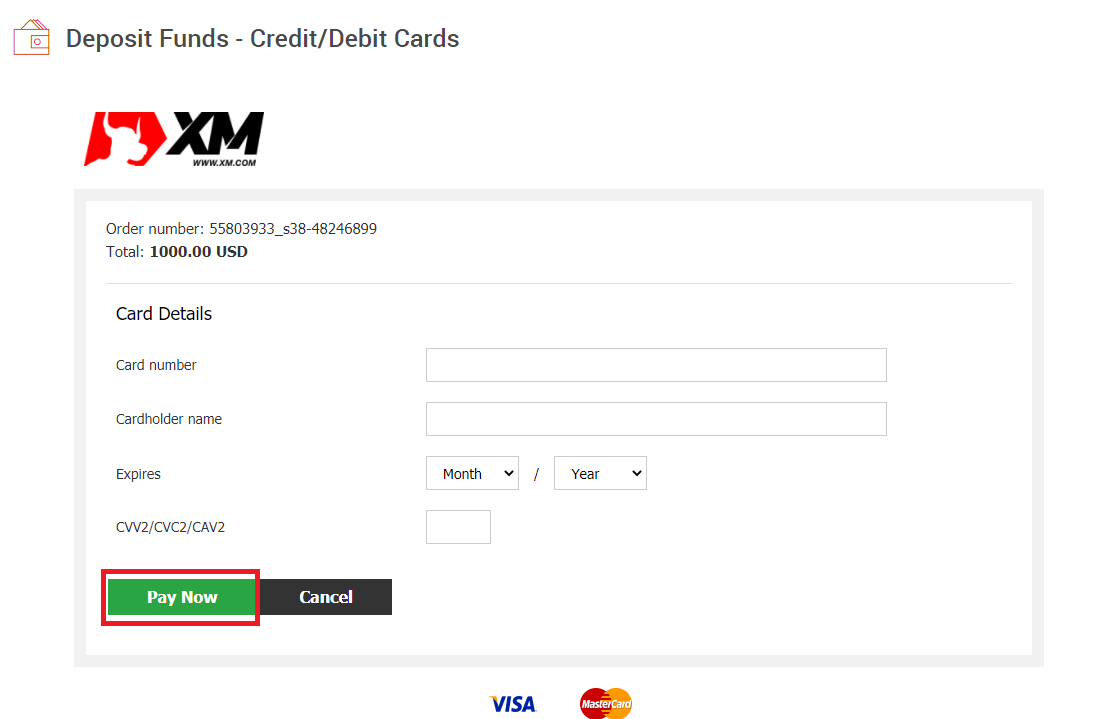 The deposit amount will be instantly reflected into your trading account.

Are you having trouble with Deposit to XM MT4 or MT5?

Contact their support team on Livechat. They are available for 24/7.
Deposit via Credit/ Debit Cards on Mobile Phone
1/ Click the "Deposit" button from Menu
After logging into My Account
XM Group official account
, click "Deposit" button on the menu on the left side of the screen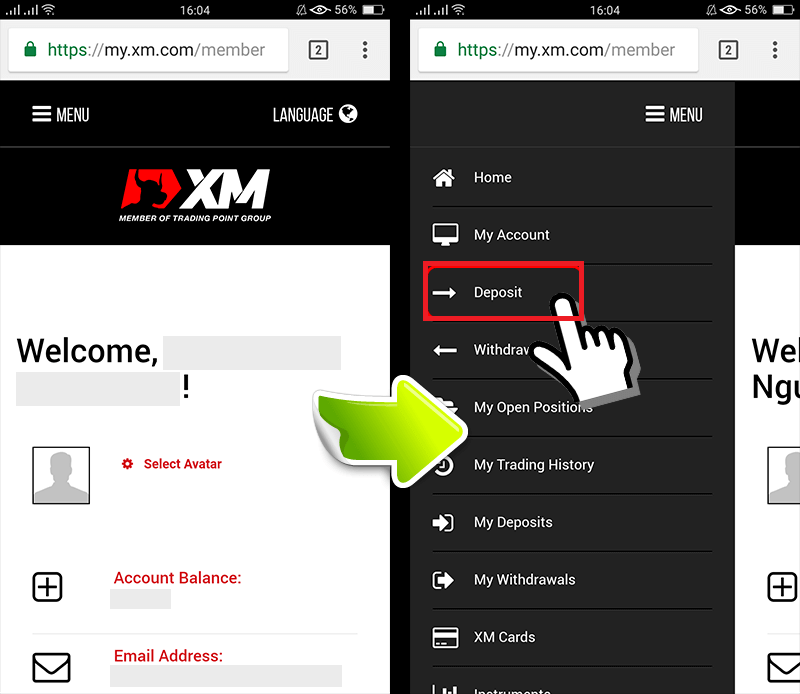 2/ Select Deposit payment method
Credit/Debit cards is a recommended payment for deposit because it's simple and allows fast deposit.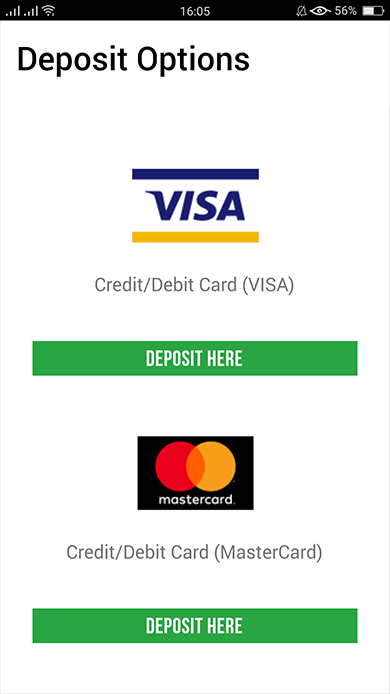 3/ Enter the amount you want to deposit
Use your registered currency when opening an account. If you have selected trading currency is USD, then enter the deposit amount in USD.
After checking the XM Account ID and the amount of money needed to deposit, enter the amount you wish to deposit to your account, click "Deposit" and you will be redirected to the payment age.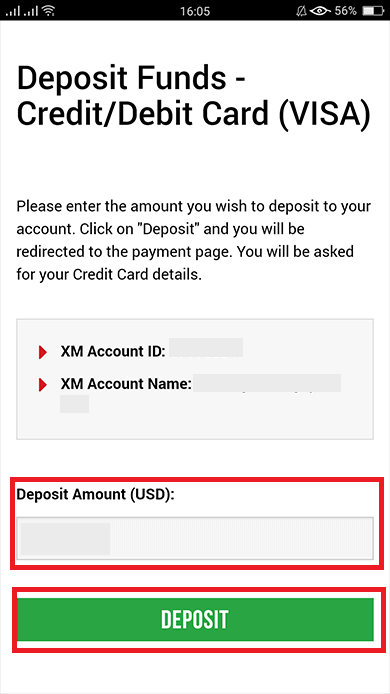 4. Confirm the account ID and deposit amount
If the information is correct then you click the "Confirm" button.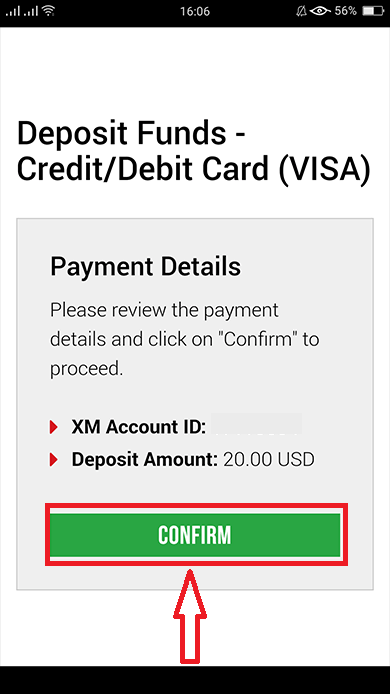 5/ Enter Credit/Debit cards information
Please enter your Credit/Debit cards information because the system will automatically direct you to the card information input page.
If your card was previously charged, some information should have been previously entered. Confirm the information such as expiry date, …make sure all information is correct.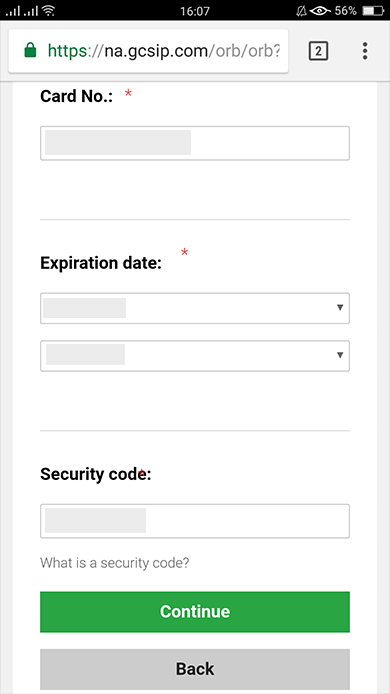 Once the information is filled, Click the "
Deposit
" button a message will appear
"please wait while we process your payment".
Please
do not click Go back button
on the browser
while payment is being processed.
Then the process is complete.  
Deposit methods other than Credit/Debit cards payment will not be reflected immediately.

If the payment is not reflected in the account, please contact support team at XM Group if the payment is not reflected in the account.

In addition, if your account is deposited from a foreign country other than your registered permanent resident address, you will need to attach a Credit/Debit cards details sheet and a credit/Debit cards image to the support team for security reasons

Please note that the above provisions will apply in the case of Credit/Debit cards issued in foreign country or when traveling abroad.



In which currencies can I deposit money into my trading account?
You can deposit money in any currency and it will be automatically converted into the base currency of your account, by XM prevailing inter-bank price.
 
What is the minimum and maximum amount that I can deposit/withdraw?
The minimum deposit/withdrawal amount is 5 USD (or equivalent denomination) for multiple payment methods supported in all countries. However, the amount varies according to the payment method you choose and your trading account validation status. You can read more details about the deposit and withdrawal process in the Members Area.
 
How long does it take for funds to reach my bank account?
It depends on the country the money is sent to. Standard bank wire within the EU takes 3 working days. Bank wires to some countries may take up to 5 working days.
 
How long does the deposit/withdrawal take by credit card, e-wallet or any other payment method?
All deposits are instant, except for the bank wire transfer. All withdrawals are processed by our back office in 24 hours on business days.



Are there any deposit/withdrawal fees?
We do not charge any fees for our deposit/withdrawal options. For instance, if you deposit USD 100 by Skrill and then withdraw USD 100, you will see the full amount of USD 100 in your Skrill account as we cover all transaction fees both ways for you.

This also applies to all credit/debit card deposits. For deposits/withdrawals via international bank wire transfer, XM covers all transfer fees imposed by our banks, with the exception of deposits amounting to less than 200 USD (or equivalent denomination).